18 July 2022
Close Deals Faster with Electronic Signature for Salesforce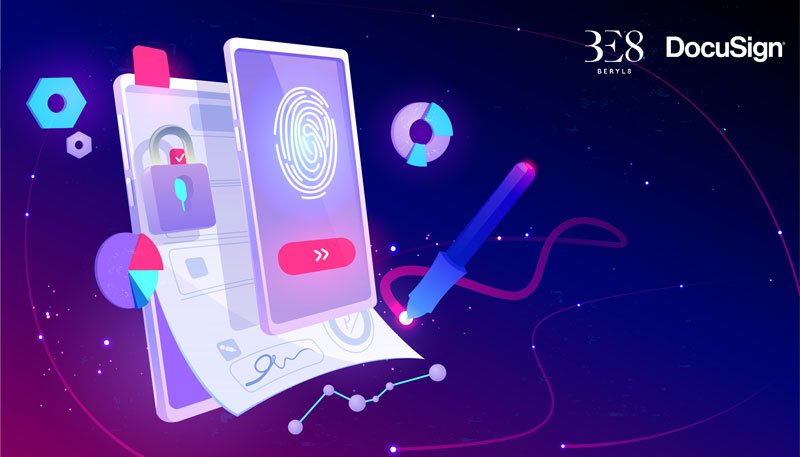 Salesforce, the leading CRM software, and DocuSign align on a core mission: to help companies ease processes and optimize relationships. In addition to satisfying customers' growing preference for digital experiences, digital contracts help companies close deals faster and limit risk. For those who want to combine the transformative capabilities of Salesforce with streamlined agreements, DocuSign eSignature is the ideal place to start.
eSignature integration is oftentimes a stepping stone for many customers to unlock the incredible value of having DocuSign embedded directly into Salesforce. DocuSign eSignature allows sales teams to generate standard contract templates, send documents for internal or customer approvals, and lead secure agreement workflows-without ever having to leave Salesforce.
5 ways to make the most of Salesforce as your business grows
1. Generate documents within Salesforce
The document generation process can be extensive, even for experienced sales teams-but eSignature for Salesforce standardizes the process for more efficient agreement creation. Saddled with a 35-step form generation process, One of the DocuSign's customer was putting in significant time and money to meet their increasing monthly demand. As they reached a critical moment in their growth, this cloud software company needed a more efficient way to prepare orders and create contracts.
Turning to DocuSign eSignature and DocuSign Gen for Salesforce, it can automate and simplify the document generation process. Eliminating many of the time-consuming manual and error-prone steps by automatically pulling data from Salesforce to build new contracts. Today, sales team can create new sales orders within five to ten steps.
2. Get contracts signed faster with SMS signing
One of the biggest challenges for DocuSign customers is finding an effective way to deliver agreements to customers constantly inundated with emails. With hundreds of emails reaching their inboxes every day, recipients can find it difficult to respond even to a small portion. At the same time, she explains, customer behavior is changing. More and more people are shifting towards mobile as a means to share and access critical information. This is a great way to reach signers.
DocuSign eSignature extends Salesforce agreement workflows into many signers' preferred means of receiving information through SMS contract delivery. Administrators can generate forms and link them securely and directly within an SMS notification. All your sales team has to do is check a box to deliver an agreement by SMS. Using automated SMS contract delivery, companies can improve paperwork completion rates and reduce times to sign across customers.
3. Expedite post-sale processes
Though eSignature for Salesforce is an integral tool for sales teams, its capabilities can also extend to post-sale workflows. Before implementing this integration, Three Ireland's process for conducting third-party verifications and voice contracts with customers after a sale was time consuming. After a completed sale, they would have to call the customer back and manually go through terms and conditions. This could take between two and three additional phone calls.
Now with the use of DocuSign, the contract is generated; it's emailed over to the customer, and the contract is back in a matter of minutes, whereas before it would have taken a couple of days.
4. Write data back into Salesforce from your signed contracts
eSignature for Salesforce marries electronic agreements with consolidated Salesforce data to facilitate faster, more accurate agreements. Merge fields allow sales teams to quickly populate contracts with up-to-date information stored in Salesforce. According to Dunne, merge fields means "no more double data entry." From a single source of truth, sales teams can create documents that pull in customer data. Any updated customer data is then automatically stored in Salesforce.
By removing manual steps and reducing opportunities for human error, merge fields save time and expedites the agreement process. With merge fields with eSignature for Salesforce, you can streamline processes, empower your users, automatically update Salesforce, and reduce risk.
5. Generate, send, and sign documents from Slack
For the eSignature for Salesforce integration, the COVID-19 pandemic represented an opportunity to expand streamlined agreements to new platforms. In this last year, as we have all leaned into tools that make it easier to work together, Integration with Slack has helped customers send and sign agreements more easily.
This heavily-requested feature allows teams to conduct Salesforce agreements within Slack-increasing productivity and providing integral visibility. Within Slack, sales professionals can access DocuSign templates, send signing reminders, and simplify business processes like completing HR forms. Think new hire onboarding, company policies, though currently only available in English, this Slack integration is included in all eSignature for Salesforce plans.
Efficient sales processes and elevated customer experiences from beginning to end
Rapid contract generation, accurate data fields, flexible signing methods-integrating DocuSign eSignature with Salesforce is an investment in an improved agreement experience for your sales team and your customers. With easy reviewing, redlining, and signing capabilities, sales teams don't have to wait to get back to the office-they can forward their agreements on site, as needed.
For DocuSign, Platform is purpose built to integrate for better joint customer outcomes across the Salesforce technology stack.
Get to know more about DocuSign: https://www.beryl8.com/en/technology/partners/docusign