30 September 2022
How to Improve Business Productivity with Tableau Mobile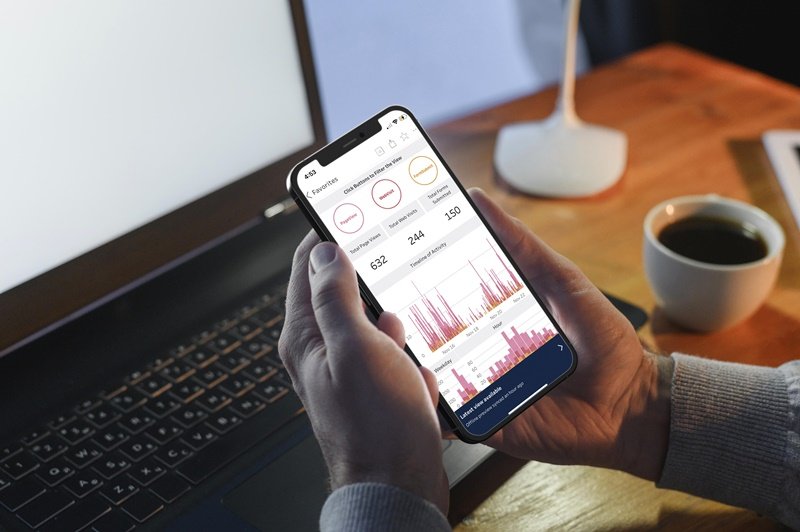 A decentralized workforce and growing digital demands are just some of the challenges organizations like yours are facing. With rapid growth in remote work, it is more important than ever to enable digital channels of communication and collaboration to simplify work streams. But what are the tools that make your employees feel empowered instead of overwhelmed?
First, let's consider that 74% of IT leaders believe that a lack of mobile access to business apps, data, and content will slow business productivity in 2025. And while being mobile-enabled sounds like it may be a major lift, your workforce is more prepared than you may think. Currently, 63% of the workforce use mobile devices for work tasks as much as for personal tasks.
With the Tableau Mobile app, you can:
Get to insights quickly when you're on the go, even if you're offline
Perform lightweight or in-depth analysis with interactive and mobile-optimized content
Keep up with your most important data through a personalized and curated experience
Access your data and collaborate all within a secure and governed mobile application
Get to insights quickly with Interactive Previews
Your organization needs answers fast. Your employees expect information to be readily available, especially when they're on the go. And with new data streamed in continuously, content needs to update quickly to reflect the latest information.
You and your employees get instant access to favorited content so they never have to wait. Interactive Previews locally caches content so your workforce can immediately uncover insights once they open a workbook or view, making content available even when you're offline. Tableau Mobile intelligently transitions to the latest view so you can be sure you're working off the freshest data.
Improve load times and performance with Workbook Optimizer and View Acceleration
To further speed up load times, your organization can leverage Workbook Optimizer and View Acceleration. Workbook Optimizer evaluates content against best practices and gives actionable recommendations for improving performance. Your organization can then boost load times even more by applying View Acceleration to workbooks by precomputing workbook's data. Using these tools, your teams can go from idea to insight in a matter of seconds.
Interact with analytically rich views optimized for mobile
But even if content loads fast, you might still be concerned that it isn't optimized for mobile. Even though mobile devices and tablets have smaller screens, your employees still expect the same great viewing experiences they have on full-size screens.
Workbooks are just as analytically rich when viewed in Tableau Mobile as they are when viewed from full-size screens. When creating a dashboard, layouts optimized for mobile are automatically generated so viewers can easily distill insights from their mobile device. And if they need to dig deeper, workbooks and views are highly interactive so your users can filter, view tooltips, and more.
Beyond traditional workbooks, your users can also leverage Metrics, a content type designed specifically for mobile. Metrics help your organization track key numbers at a glance so your employees can keep up with their most important KPIs. Their configurations can also be changed while in the app to adjust the date range and comparison.
Discover and surface content that matters fast
Content is only as valuable as it is discoverable. Your employees need to be able to navigate through mobile apps efficiently so they can get to the content that matters.
The Home page is designed so your employees have quick access to relevant content. Here, they can access content they've favorited, recently viewed, had shared with them, or organized in collections. Tableau Mobile's streamlined design ensures that desired content is only a tap away. Favorites can also be reorganized with a simple drag and drop ensuring your important content appears earlier.
For finding new content, the Explore page surfaces recommendations based on their viewing habits and trending views. These recommendations help your employees find new content that may be relevant to them. Your employees can also focus their attention and collaborate using notifications. And of course, search is always available to help your employees discover content related to their needs.
Securely deploy Tableau Mobile with flexibility
Before you think about rolling Tableau Mobile out to your workforce, you need to first make sure you can deploy it without compromising security. As the companion app to your Tableau Server or Tableau Cloud site, you can be assured content is stored in a secure and governed platform.
You can confidently scale Tableau mobile enterprise-wide, whether your organization provides company-issued devices or has a bring-your-own-device policy. We offer a variety of authentication methods to give you the flexibility you need including SAML, OpenID Connect, Mutual SSL, using a VPN or reverse proxy. We offer choice and flexibility for MDM and MAM systems. You can add Tableau Mobile to your MDM system so it's available in your internal app catalog for VMWare Workspace ONE, MobileIron, Citrix Endpoint Management, and Microsoft Intune. For MAM systems, we offer Tableau Mobile apps for VMWare Workspace ONE (iOS), Microsoft Intune (Android and iOS), and Blackberry UEM (Android and iOS).
Get started with Tableau Mobile
To truly create a Data Culture, your organization needs to have access to analytics wherever they are. Tableau Mobile multiplies the impact of your deployment by putting insights directly in the hands of your organization.
For more information about Tableau, please contact our Sales Team Click