18 January 2023
These 4 Marketing Trends Are Reshaping How We Connect With Customers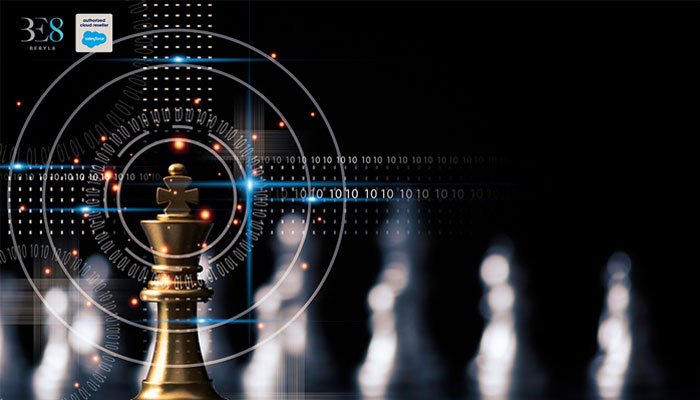 Salesforce surveyed 6,000 global leaders to find out how new technologies and expectations are changing the way businesses build relationships with customers. Here are the key findings and tips for success from Salesforce newest State of Marketing report.
Over the past few years, marketing trends have forced brands to navigate uncharted and fast-moving waters. Shifts in customer behaviors, an economy in flux, and emerging technologies are all rocking the boat.
The good news? You can help your company weather the storm by embracing tech tools, personalizing your customer interactions, building for a cookieless future, and prioritizing collaboration with remote teams. The key is to focus on the right solution for right now.
Salesforce has identified four major marketing trends from Salesforce's newest State of Marketing report that are reshaping the way we do our jobs and how we connect with customers.
Trend 1: Mastering tech tools is marketers' number one priority - and also their biggest headache
New challenges call for innovative solutions. As customer preferences, buying behaviors, and expectations shift, marketers are adapting to meet audiences' new demands. We found that 91% of CMOs say they must continually innovate to remain competitive. Over the past year, marketing organizations have changed their top priorities to make this happen.
As many businesses are charged with doing more with less, marketers are prioritizing getting more out of their existing tools and technologies. On the flip side, the ineffective use of these tools and technologies is also their top challenge.
Marketers' top 5 priorities
Improving use of tools and technologies
Experimenting with new marketing strategies and tactics
Modernizing tools and technologies
Building/retaining trust with customers
Improving collaboration
Marketers' top 5 challenges
Ineffective use of tools and technologies
Measuring marketing ROI / attribution
Balancing personalization with customer comfort levels
Building/retaining trust with customers
Resistance to new marketing strategies/tactics
We've seen how things like technology adoption, vanity metrics, and a disconnection between marketing and sales slow marketers down. Many marketers are further prioritizing the modernization of their tech stack, with many investing in automation and employee productivity solutions.
The growth of martech tools has created more data than marketers can know what to do with. The pros? With more data generated than ever before, businesses are able to target customers with personalized experiences with much greater precision. The cons? Marketers must manage the deluge of data types that come in and balance how to personalize without crossing the ethical line.
Trend 2: Marketers are redefining customer engagement with smarter, targeted interactions
Data has gone from being a supporting player in a marketer's toolkit to a mission-critical component at the heart of today's digital-first company. As such, marketers need to get the most from their technologies that help use data to make smarter, more personalized interactions. A fringe benefit of this is lower costs and more efficient processes.
Marketing organizations Salesforce surveyed use the following technologies
90% Customer relationship management (CRM) system
89% Account-based marketing (ABM) platform
62% Artificial intelligence (AI)
According to the Salesforce report, 80% of marketers say customer experience is a key competitive differentiator, and they are hungry for more connected data in order to deliver on it. Marketing trends show that organizations continue to increase the number of data sources they're using each year.
Marketers are using technologies like CRM systems and ABM platforms to unify data and deliver targeted campaigns, while leaning on artificial intelligence (AI) to integrate automation capabilities into a range of marketing activities. Three of the top four AI use cases are related to automation, highlighting the importance of scaling up speed and effectiveness with existing resources.
Marketers are also laser-focused on getting the most out of limited budgets and resources to meet audiences where they are. We found that 83% of marketers say their marketing organization engages customers in real time across one or more marketing channels.
Trend 3: The cookieless future is pushed back, but marketers continue to prepare
As marketers move forward in their quest for more data sources in the decline of third-party cookies, they're pivoting to data given freely by customers (zero-party data) and data companies directly collected from customers (first-party data).
This change puts marketers in the driver's seat and enables them to engage the right customers more efficiently — and maximize marketing dollars.
Actions marketers say they have taken to prepare for privacy changes
Providing information-sharing incentives for customers: 56%
Creating a first-party data strategy: 54%
Creating second-party data-sharing agreements: 52%
Investing in new technologies: 51%
Reducing internal data silos: 49%
As deadlines to phase out third-party cookies continue to be delayed, 75% of marketers say they still rely on third-party data. However, marketers aren't allowing this pause to hinder progress.
The report shows that 68% say they have created a fully defined strategy to shift toward first-party data as they adapt to changes in privacy regulations and calls for data transparency. Streamlining the number of data sources will also help marketers be more efficient and reduce costs.
While not all third-party data is cookie-related, marketers will need to reconcile this strategy with looming changes in privacy regulations. Strategies such as providing information-sharing incentives for customers can help bridge the gap by enriching customer data profiles.
The growth of data sources in the near-term underscores the need for technology that will help marketers unify disparate data sources into a single view of the customer. Current marketing trends back this up: We found that 32% of B2B marketers say that sharing a unified view of customer data across business units is a challenge.
Trend 4: It takes more than an investment in tools to unlock collaboration
Remote work has fundamentally changed the marketing landscape, making collaboration that much more difficult. We found that 69% of marketers say it's harder to collaborate now than before the pandemic.
Many marketers continue to juggle communications, processes, collaboration, and problem solving, all while moving in a hybrid world. And they believe this marketing trend is here to stay — 70% expect investments in remote technologies to be permanent. In response, marketers are investing in collaboration technologies to ensure that work gets done, regardless of location.
Marketers who said they use the following collaboration technologies
Video conferencing: 46%
Channel-based collaboration platform: 45%
Instant messaging or chat apps: 45%
Enterprise social networks: 44%
Email: 43%
Shared documents: 42%
Voice messaging: 41%
Phone: 38%
Virtual whiteboards: 36%
Marketing organizations have adapted to the shifting needs of their workforce, adopting an average of four collaboration technologies to unify global marketing teams.
Taking the lead are technologies like video conferencing, channel-based collaboration platforms (like Slack and Microsoft Teams), instant messaging or chat apps, and enterprise social networks. While email makes it into the top five, it's clear that communication tools that enable instant, asynchronous work are preferred to interact with one another.
For more information, you can contact our Sales Team here. Click