28 September 2023
How to Build a Data Community Within Your Organization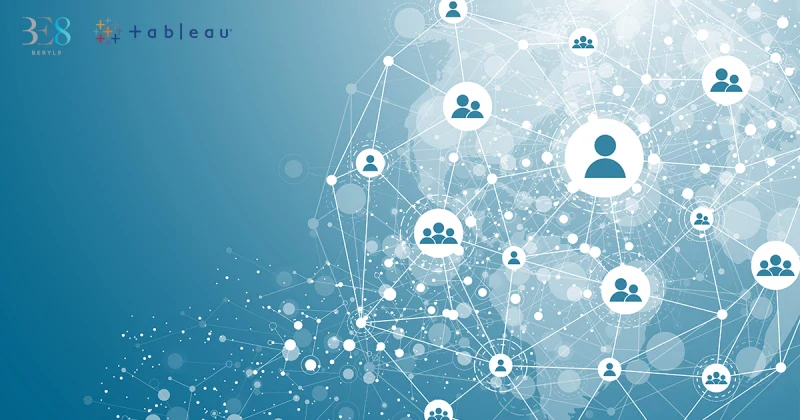 Learn from the most successful and passionate data community-the Tableau Community-to inspire building your own internal network of engaged data users.
Analytics is essential for the future of work as more organizations embrace data to make decisions, delight customers, track progress, and innovate their products and offerings. But to glean valuable insights, people must become fluent in data. Data communities-networks of engaged data users-create an environment where people can come together to immerse themselves in the language of data, encouraging data literacy and fueling excitement around data and analytics.The most effective data communities provide access to data and support its use with training sessions and technical assistance. They also build enthusiasm through programs like internal competitions, user group meetings, and lunch-and-learns. Community brings people together to share learnings, ideas, and successes. These exchanges build confidence and camaraderie, lifting morale and guiding members around a shared mission to improve the business and the world with data.
Communities are good for people-and that's good for business
Communities provide the framework for internal and external peer-to-peer collaboration that builds up organizations, their people, and their data-driven culture.
External communities allow you to look beyond the walls of your organization to see what others are doing, reveal blind spots, learn from their wins and losses, and understand how you stack up. Conversely, internal communities help teams look within to break down silos and share information between functions to answer key business questions and solve organizational challenges.
Zak Geis, Tableau Visionary and leader of the JPMorgan Chase Tableau Center of Excellence, on how he helps to enable nearly 200k Tableau users: "Community is critical to everything we do at JPMC. We use the external community and the projects there as a blueprint for how to do things internally-from design challenges and competitions to Tableau User Groups and even micro conferences.
The DataFam is part of what makes Tableau so unique. The people in the community strive to create a safe, welcoming space for new members while always contributing new ideas, programs, and thought leadership. We look to this as a benchmark for building and fostering community internally. It's very important to us that our internal community represents the same qualities as the Tableau Community."
Learn from the most successful and passionate data community
Did you know you have a global DataFam full of peers who want to see you thrive? The Tableau Community is unrivaled, with millions of members who share a passion for data and a genuine commitment to helping others succeed. From assisting individuals in learning Tableau and building their data skills to helping organizations build data cultures and drive analytics at scale, the Tableau Community is here to help.
Build your own data community
We built Tableau Community programs to help you collaborate with peers across regions, industries, and roles. It's a place to get inspiration, learn, connect, and grow. But it is equally essential for you to provide spaces for people to come together within your organization to reinforce shared values and behaviors, sparking the energy and support necessary to tip the scales and build a data-driven decision-making culture. Data communities help foster and maintain cultural change in three key ways.
1. Data-driven mindset
Imagine if your people used data because they wanted to-not because they had to. Data communities give people dedicated space and time to share their stories. As a result, perceptions change, and people start to associate data with improvement, success, and growth.
Tableau Ambassador and APAC data and digital senior analyst Thi Ho helps bring data to all parts of her organization. "We have always valued data in making better business decisions, but it can be hard to make data accessible to non-data users. Last year I got to arrange my organization's first APAC Tableau day, which helped bring data and non-data enthusiasts together to share and learn best practices. As a result, we've successfully seen attendees motivated and inspired to work innovatively with data. In the long term, we hope to see this same shift of attitude toward data present in all lines of business. Most recently, we've seen more discussion and interest in various teams wanting to incorporate analytics in their day-to-day such as CRM, Marketing, and Sales."
2. Data literacy and confidence
Everyone faces obstacles when learning something new. But data communities turn those challenges into opportunities, giving newbies a place to practice using data, all while supported by experts who offer empathic guidance and lead by example. Once they become more skilled, they carry on the legacy of their teachers and seek opportunities to "pay it forward" and share their learnings with others.
Charlotte Nickels, Community Drivers Tableau User Group Leader and Senior Manager at the Chief Data & Analytics Office, says at Lloyds Banking Group, "unless users feel truly comfortable using data, they'll shy away from it. Senior leaders and analysts want to feel empowered at work, and proper data literacy training is the best way to do this. Once users can understand, interpret, and confidentiality act on data, they'll unlock a whole new level of productivity, domain expertise, and strategic decision making."
Looking to bring data literacy to your business or internal community? Check out Tableau's Bring Data Literacy to Your Workforce guide. It's filled with the advice, activities, plans and resources you need to enable your teams with data literacy, at scale. Looking for more? Take a look at Tableau's Data Skills 10 Million page, which is full of training and resources to get you up to speed fast.
3. New solutions and opportunities to innovate
Most problems worth solving with data aren't limited to a single team or line of business. Data communities break down organizational silos, sparking new ideas and fostering relationships that lead to cross-functional collaboration.
Ready to get started?
Data communities will look different in each organization. But what they have in common is people coming together from across teams and business units to share their experiences with data-learnings, solutions, and successes.
Building an enterprise-wide data community comes down to success in three key pillars: communication, engagement, and support. To support customers on this journey, we created Tableau Blueprint. Tableau Blueprint curates the best practices and expertise of thousands of customers, providing prescriptive, proven, and repeatable guidance to follow as you deploy and mature your entire analytics practice. Blueprint helps organizations like yours establish the right balance of trust and responsibility to build agility, proficiency, and community. What's great about Tableau Blueprint is that it allows you to zoom out to see the big picture and zoom in on a specific area to fine-tune and improve.
Amy Ryder, Data Enablement Manager at Jaguar Land Rover, shares, "as our community has grown, our Tableau Champions network is branching out into sub-networks within each of the different business areas so that they can tailor support and events to their colleagues-and Blueprint is being used to support the setup of those networks. Our community today looks very different from how it first started. But the goal remains the same-supporting our colleagues to deliver the most value from data they can through training and collaboration.
Your community does not need to start with large, organization-wide efforts. You can begin where conversations are already happening, and as engagement grows, you can formalize efforts with dedicated owners, leaders, and processes. We've packaged some of our most popular Community programs. You can use these resources as a starting point and customize them for your organization's needs.
Drive deeper engagement: Internal User Groups
Internal user groups can take different shapes depending on your organization's size and geographical distribution. Still, one thing is certain-they are open to all Tableau users to promote collaboration and sharing between teams.
Recognize and support the data rockstars: Data Champions
Invest in your organization's most passionate champions and get an extended network of Tableau enthusiasts with the skills necessary to help users and accelerate adoption.
Coordinate standards and processes: Admin Group
Tableau Server and Site administrators can review server and content usage and exchange administration ideas.Lower the barrier to learning data skills: Lunch and Learns Host regular lunchtime meetings focused on building a new skill.
Gamify and have fun: Viz Games
Challenge your users to a data visualization competition. The excitement and camaraderie that follows will convince even skeptics that working with data is fun.
Showcase the importance of data with Tableau: Tableau Day
Raise data and analytics visibility with a full- or half-day event to share work, insights, and Tableau successes.
Celebrate all things analytics in your organization: Analytics Day
This event is similar to Tableau Day but with a broadened scope to include other technologies and subjects.
Remove roadblocks: Data Doctor
Connect your organization's data experts with their colleagues for live, peer-to-peer support. Along the way, you'll identify departmental or organizational knowledge gaps.
Those who invest in data communities reap the benefits. People have the data training they need to act quickly and know where to go when they have questions about data sources or visualizations, speeding up communications cycles. If you find a part of the Tableau Community that resonates with you, take it back to your organization's internal data teams. Use our guides and best practices to adapt our most popular Community programs for your own use. Start building your data community today.