23 March 2023
Beryl 8 Plus announces partnership with modern work management platform "Smartsheet"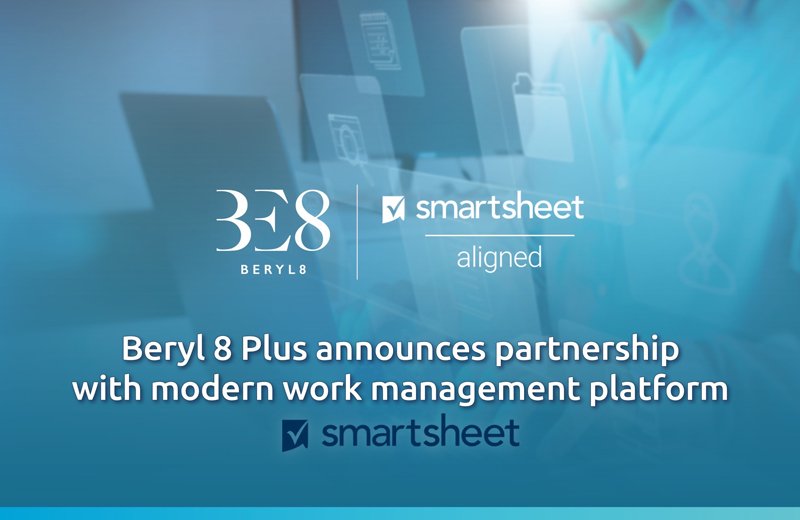 Beryl 8 Plus is excited to announce our official partnership with Smartsheet, a leading platform for work collaboration that helps teams manage their work, be more productive and drive innovation. Smartsheet joins our world class technology partners to help broaden our offerings to customers and fulfill our goal to offer end-to-end digital transformation services for all business needs.
Mr. Apisek Tewinpagti, Chief Executive Officer of Beryl 8 Plus PCL., or "BE8", said that the company partners with leading global technology companies from various fields, offering comprehensive services to customers. As a leading technology consultant, we are dedicated to providing customers with comprehensive solutions.
"Smartsheet", a leading cloud-based work management platform, joins our world class global technology partners portfolio. As we embark on the new normal post covid-19, our customers have been looking for ways to support their employees to work together more efficiently and effectively with maximum flexibility, and we strongly believe that Smartsheet would be key in addressing those needs. Smartsheet is a user-friendly and scalable technology platform that will help drive digital transformation and enhance business capabilities in today's business organizations, enabling them to keep up with the changing landscape of digital technology and create good business growth opportunities in the future.
Mr. Kush Jain, Senior Channel Manager | ASIA said, "Smartsheet is thrilled to be partnering with the world-class team at Beryl 8 Plus. We look forward to combining our collective experience and strengths to deliver value to our new and existing base of customers in Thailand across 3 solution categories - modern project & portfolio management, strategic transformation, and marketing & creative management"
Get a fresh start with Smartsheet
Smartsheet empowers teams to manage multiple projects and resources through simplified automated workflows and business-driven solutions at scale. With its collaborative dashboards, sheets, and report functions, the industry-leading platform enables seamless and aligned marketing, project management, and IT operations in enterprises in any field. Start a free 30‑day trial.