27 January 2023
Meet Your Customers' Expectations with Mobile Signing Solutions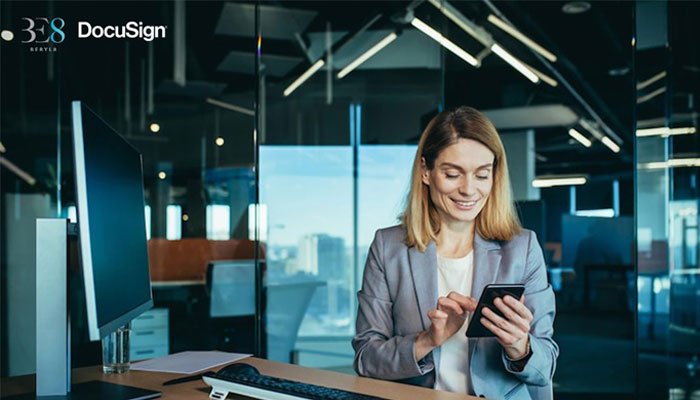 In financial services, digital experiences are no longer a nice-to-have. They've become essential to how financial consumers conduct their lives.
Over the past few years, COVID and the rapid rise of eCommerce have shaped consumers' expectations for how they interact with their financial providers. Few people-especially from younger generations - want to walk into a physical branch for financial services.
Consider that over 55 percent of millennial and Gen Z consumers prefer to open accounts via digital channels. And more than 6 in 10 of those consumers would switch financial institutions to obtain a better mobile banking app or digital experience.
And while 78 percent of banking customers initiate their relationships on a website or app, fewer than a third of banking, wealth and insurance customers are satisfied with the digital experience they receive from their provider.
Investing in providing a better customer experience is about more than convenience. Such investments pay off in multiple ways over the long term, including lower abandonment rates, higher degrees of trust and accelerated time to revenue. This is why financial institutions have consistently ranked improving the digital experience as both a top challenge and an investment priority over the past two years.
Creating exceptional digital experiences for your customers begins with identifying the moments that matter. One of these key early moments is the presentment and signing of digital agreements. To ensure your customers are wowed right from the start of the relationship, you must deliver a smooth and frictionless digital signing experience.
Digital agreements and signing experiences set the tone for the relationship
Agreements are a central part of delivering outstanding, innovative customer experiences. They're the backbone of many high-volume, high-value financial services interactions, including applying for a loan, opening a deposit account and signing up for home and auto insurance policies.
But the processes underlying these agreements are burdened by inefficiencies that can inflame customer dissatisfaction and increase abandonment rates. For example, not in good order (NIGO) documentation issues can be caused by missing information during the initial application process. These issues can result in application processing errors, a frustrating back-and-forth between applicants and the staff or agents serving them, and delays in processing. This leads to slower document turnarounds and, ultimately, slower time to fund new loans, open new accounts or bind new policies.
But with the right digital agreement capabilities, financial institutions and insurance companies can build more intuitive signing experiences and minimize friction, resulting in higher completion rates and faster time to signature.
A powerful suite of mobile signing solutions
With DocuSign, financial institutions can build best-in-class mobile signing experiences that deliver documents directly to signers, both within their own digital footprint or through industry-leading eSignature solutions.
Financial services organizations can send agreements to their customers in their preferred digital channel via SMS delivery. Once the customer or member opens these forms on their mobile device, they no longer need to worry about pinching and zooming-with responsive signing, they can read forms that perfectly fit their screen. Longer documents can even be collapsed into consumable "smart" sections for easier navigation. With these capabilities, financial institutions can ensure that the language contained in application agreements is easy to read, understand and complete.
And because security and privacy are important in the digital realm, FSIs can seamlessly integrate authentication and verification checks to confirm signer identity using options like KBA, ID Verification, and more.
Supporting your brand through a customized signing experience
For financial services organizations looking to offer a fully customized and brand-consistent signing experience across every customer touchpoint, DocuSign now offers Elastic Signing-a new feature within eSignature that enables users to seamlessly deliver personalized signing experiences directly on their website and applications.
Embedding agreements directly on their websites or applications, with the ability to customize UI elements such as fonts, background and the color and spacing of borders and buttons-resulting in agreements that fully match the look and feel of the company's website or application.
Personalizing each agreement by dynamically inserting content, such as the signer's name, title, company, or other custom fields. The information is populated responsively, perfectly matching the formatting of the document. This saves signers time and effort by eliminating the need to manually input information they'd already provided.
Allowing parties to easily sign agreements with the click of a button, removing unnecessary steps that may lead to higher abandonment rates.
Delivering a better digital signing experience
The digital agreement experience is often the first touchpoint a customer or member has with your institution. It's worth the investment to make that experience the best it can be.
Want to deliver personalized, convenient mobile experiences? Learn more about Elastic Signing or contact our team click here.