01 June 2022
BE8 and PTT Digital join forces to strengthen service, offering comprehensive CRM Solutions to help organizations drive Digital Transformation successfully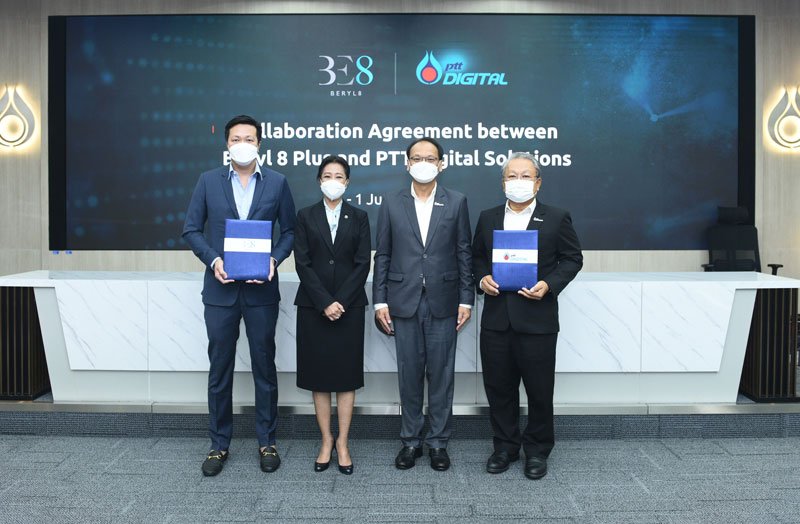 Mr. Terdkiat Prommool, Senior Executive Vice President, Corporate Strategy and Sustainability of PTT Public Company Limited and Chairman of PTT Digital Solutions Company Limited presided over the Collaboration Agreement Signing Ceremony for Cooperation in Technology and Innovation between PTT Digital Solutions Company Limited and Beryl 8 Plus Public Company Limited. The agreement was signed by Mr. Kaweesak Boonchalaew, Managing Director of PTT Digital Solutions Company Limited and Mr. Apisek Tewinpagti, Chief Executive Officer of Beryl 8 Plus Public Company Limited.
Mr. Apisek Tewinpagti, Chief Executive Officer of Beryl 8 Plus Public Company Limited or "BE8" remarked that the collaboration agreement will encourage further cooperation between BE8 and PTT Digital to bring innovation and technology to help increase the ability to provide service to organizations that need to drive digital transformation in order to be ahead of the disruption curve and to create more competitive advantage.
This partnership will combine BE8's expertise in technology consulting with a specialization in the Salesforce CRM platform with PTT Digital's expertise in Enterprise Digital Solutions and Customer Service Operation Excellence to deliver an end-to-end CRM solution that will create business value for customers with services starting from digital strategy to platform design and development as well as supporting organizations in order to achieve the goal of being a technology service provider for companies in PTT Group and other businesses in the future.
"This collaboration is an important step to help create a strong foundation, increase competitive advantage, and underline Beryl 8 Plus as a leader in Digital Transformation by helping expand our customer base across industries and help us grow sustainably with a strong customer base from all segments, including Corporate and Enterprise as well as Government and SMEs," commented Apisek.
Mr. Kaweesak Boonchalaew, Managing Director of PTT Digital Solutions Company Limited added, "In an environment of rising competition and drastic technology shifts, all organizations are required to adjust and accelerate Digital Transformation in order to increase their business operation's efficiency and help the business grows sustainably. However, due to rising complexity of technology, ensuring seamless integration between platforms and technology as well as designing effective business process and operations after implementation, are as critical as planning and designing the digital transformation solutions themselves.
Hence, the collaboration between BE8 will be complementing and enhancing our Digital Transformation services to be more complete from end to end, allowing us to better serve businesses, especially in the Market for Alternative Investment (MAI) which focuses on mid-size businesses and SMEs. Through PTT Digital's professional services with international standard under our operating principal of "Design-Build-Run" which will span the entire process of design, develop, and maintenance of systems that is aligned with the organization's needs as well as our highly experienced technical personnel with in-depth industry knowledge, we are confident to be able to address the needs to businesses and to increase operational efficiency through Digital Transformation and creating sustainable business value through technology."
The collaboration between the 2 organizations will increase the ability to provide a more comprehensive CRM Solutions service by integrating the Salesforce platform to multiple businesses from various industry to encourage seamless operation between departments of each organization, including Sales, Service, and Marketing, while simultaneously elevating customer experience and addressing the Digital Consumer needs. The key objective of this collaboration is to help all organizations to be able to access and apply technology to their business in order to stay ahead of digital disruption.