03 February 2023
BE8 and BBIK Forms Joint Venture to Enter Green Tech Market with a Focus on Net Zero Technology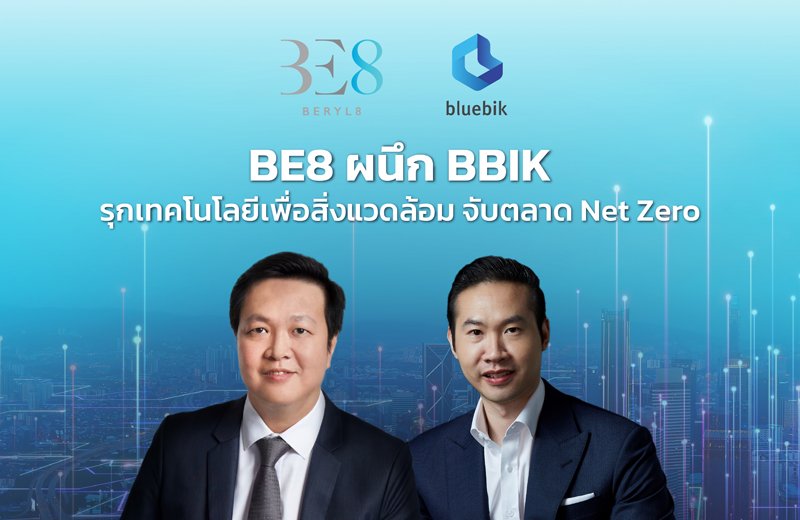 Beryl 8 Plus and Bluebik, 2 leading Digital Transformation consulting companies, established a JV to start a new venture in Green Tech both in Thailand and International markets. The companies see a massive opportunity in the Thai Green Tech Market which is valued at close to 1 Billion THB and also exhibits high growth as it is a mega-trend that every country has to work towards. Both companies' CEO believe that the JV would combine the unique competitive advantage and strength of each company to create a sustainable growth and also allow them to compete globally.
Mr. Apisek Tewinpagti, Chief Executive Officer of Beryl 8 Plus PCL., or "BE8", shared that the company has formed a Joint Venture with Bluebik PCL., or BBIK with each company holding 50% shares of registered capital. The Joint Venture's main mission is to offer services in Green Tech, including Strategy and Consultation as well as Development & Implementation of Net Zero Technology and Carbon Accounting for Green Businesses.
Mr. Apisek added that the business of consulting and service in Green Tech exhibits high growth especially in the field of Net Zero and Carbon Footprint Reduction which is a global concern where state entities are playing a major role in educating, establishing standard of measurement and assessment, and passing laws to encourage relevant parties to prioritize investment in carbon emission reduction which will also lead to a massive opportunity for technology and innovation that can support these efforts.
As private sectors have increasingly become more aware and concerned of Net Zero and Carbon Emission Management, BE8 foresees a big business opportunity to provide services and consultation in this field, leading to the decision to establish a Joint Venture with Bluebik Group PCL. The market size of Green IT Services in Thailand last year is estimated at 960 Million THB and is expected to reach 1.4 Billion THB in 2 years with a growth rate of 12%. The majority of customers would range from leading enterprises and organizations in the country who are key drivers in achieving the country's Net Zero Goal in 2050.
"Although BE8 and BBIK are both offering services and consultation in Digital Transformation, each company has unique strengths and positioning and we do not compete directly. This Joint Venture is just the beginning of our collaboration and we foresee many other opportunities in the future where we could potentially work together to help all businesses be ahead of the disruption with technology," said Mr. Apisek.
Mr. Pochara Arayakarnkul, Chief Executive Officer of Bluebik Group PCL., or "BBIK", a Strategy Consultation and End-to-End Digital Transformation firm, said that the joining of 2 leading companies in Digital Transformation each with unique strengths will help expand the potential and capability of both firms to compete with global technology companies and allow the entrance into Green Tech services which would include Consultation, Development, and Implementation of relevant technology. Moreover, the trend of environmentally sustainable growth or ESG has become a critical mission for leading global organizations to transform into Green Organization to create sustainable growth. In addition, we see massive opportunity for this business in Thailand as the country is still in very early stage of transforming into Carbon Footprint for Organization.
"Economic uncertainty and environmental issues are pressing businesses to grow more sustainably by embracing the Environment, Social, and Governance principles. From this global mega-trend, Bluebik and Beryl 8 Plus sees an opportunity to be part of the driving force to help businesses achieve their mission to abide by ESG principals with innovation and technology. We strongly believe that transforming into Green Organizations with technology and innovation will be a critical part in helping create a better society and country," said Mr. Pochara.
Beryl 8 Plus and Bluebik believes that this collaboration is just the beginning of integrating both company's unique strengths in Digital Transformation to pave way for new technology and solutions that can better address the needs of customers to be able to respond better to the challenges of the digital economy and new trends.