20 January 2023
Everyday AI, Extraordinary People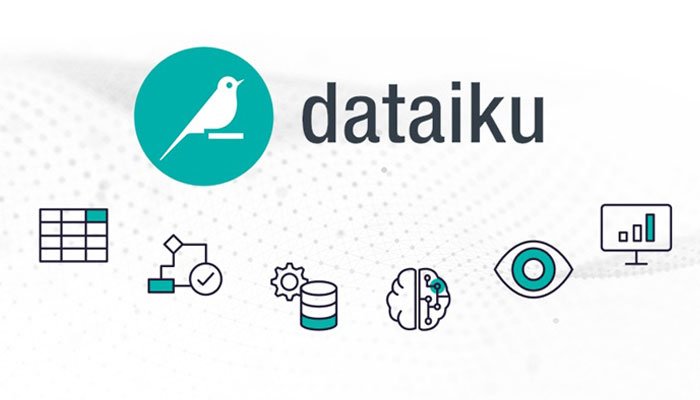 Dataiku is the world's leading platform for Everyday AI that allows companies to leverage one central solution to design, deploy, govern, and manage AI and analytics applications for exceptional business results. More than 500 companies worldwide use Dataiku to systemize their use of data and AI, driving diverse use cases from fraud detection to customer churn prevention, predictive maintenance to supply chain optimization, and everything in between.
If you're not familiar with Dataiku, the platform lets you turn raw data into advanced analytics, run some data visualization tasks, create data-backed dashboards and train machine learning models. In particular, Dataiku can be used by data scientists, but also business analysts and less technical people.
The history of Dataiku
Dataiku was founded in 2013 in Paris, gained 1st customer using a beta. Since then it has grown quickly, opening offices in New York, London, Singapore, Australia among others. Currently Dataiku employs more than 1,000 people worldwide, and 3 rounds of funding, CapitalG, the investment arm of Alphabet Inc. (holding company for Google), invested in Dataiku at a 1.4B USD valuation! This shows clear trust and validation from investors and customers.
Right now, The platform has more than 45,000 active users and more than 450 clients worldwide, such as Unilever, Schlumberger, GE, BNP Paribas, Cisco, Merck and NXP Semiconductors.
You Can Trust in Dataiku to Generate Value at Enterprise Scale
Streamline Efficiency
: Teams go up to 5x faster
Centralized Governance
: Oversight and control to dramatically reduce risk
Embed Scale
: Go from one siloed team to thousands of users and use cases
Dataiku DSS (Data Science Studio) has more than 90 features that can be classified according to the following: Integration & Connectivity of Dataiku DSS within other infrastructures, More over 100 plugins in the Dataiku Plugin Store, Optimized data preparation, Integrated development, Machine learning & AI, Collaboration & Governance, MLOps, Data Analysis & Data Visualization, Dataflow and intelligent recomputing, Deployment & industrialization of workflows
There are two ways to use Dataiku. You can install the software solution on your own, on-premise servers. You can also run it on a cloud instance.
Customers using Dataiku Online can take advantage of Dataiku's pre-built connectors. For instance, you can connect your Dataiku instance with a cloud data warehouse, such as Snowflake Data Cloud, Amazon Redshift and Google BigQuery. You can also connect to a SQL database (MySQL, PostgreSQL), or you can just run it on CSV files stored on Amazon S3.
And if you're just getting started and you have to work on data ingestion, Dataiku works well with popular data ingestion services. A typical stack for our Dataiku Online Customers involves leveraging data ingestion tools like FiveTran, Stitch or Alooma, that sync to a cloud data warehouse like Google BigQuery, Amazon Redshift or Snowflake. Dataiku fits nicely within their modern data stacks.
Finally, Dataiku goes beyond supporting you in your day-to-day use of Dataiku DSS and offers a range of professional services to help you overcome the various obstacles on your path to Enterprise AI. In particular, Dataiku can assist you in identifying and implementing AI use cases, defining your AI strategy and operating model or measuring the business value of your AI initiatives.
Get Started with DataIku - 14 Day FREE TRIAL!
Source:
Techcrunch.com and Devoteam.com