10 January 2022
The Benefits of CRM Goes Beyond Customer Loyalty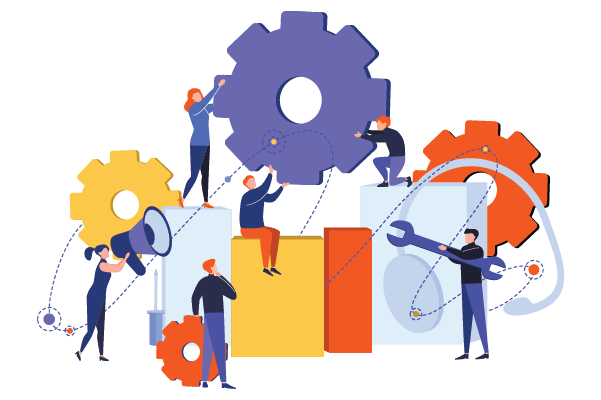 1. CONNECT YOUR BUSINESS SILOS.
Fifty-six percent of business leaders admit that organizational silos negatively impact the quality of their customers' and prospects' experiences. Information silos are a huge problem, but a shared platform and process for managing customer relationships across functions can really help. In fact, 80% of business leaders from the same study say they are increasingly using their company's CRM as a single source of truth about their customers across departments.
With a shared CRM, employees are empowered with the right tools and data to manage customer relationships more effectively across lines of business, and they have visibility into customer interactions from other departments. They can more effectively and efficiently work together to enable connected customer experiences.
2. IDENTIFY AND CATEGORIZE LEADS.
A CRM system can help you identify and add new leads easily and quickly and categorize them accurately. By focusing on the right leads, sales can prioritize the opportunities that will close deals, and marketing can identify leads that need more nurturing and prime them to become quality leads.
With complete, accurate, centrally held information about clients and prospects, sales and marketing can focus their attention and energy on the right clients.
Customer management solutions can speed up and improve how you locate, win, and keep your customers happy.
3. INCREASE CUSTOMER LIFETIME VALUE.
By understanding your customers better, cross-selling and upselling opportunities become clear — giving you the chance to win new business from existing customers. This helps you to grow lasting, more profitable relationships with your customers.
With better visibility, you'll also be able to keep your customers happy with better service. Happy customers are likely to become repeat customers, and repeat customers spend more — up to 33% more according to some studies.
4. OFFER BETTER CUSTOMER SUPPORT.
Today's customers expect fast, personalized support, at any time of day or night. A CRM system can help you provide the high-quality service that customers are looking for. Your agents can quickly see what products customers have ordered, and they can get a record of every interaction so they can give customers the answers they need, fast.
5. IMPROVE PRODUCTS AND SERVICES.
A good CRM system will gather information from a large variety of sources across your business and beyond. In this way, it can serve as a customer-listening engine, giving you unprecedented insights into how your customers feel and what they are saying about your organization - so you can improve what you offer, spot problems early, and identify gaps.
6. BE READY FOR WHATEVER'S NEXT.
In a work-from-anywhere world, it's never been more important for your teams to be connected on a shared platform that allows them to collaborate and work from anywhere. And external forces aside, customer expectations will continue to push your business to evolve over time, and a flexible, scalable, cloud-based CRM can help you remain agile and grow your business no matter the circumstance. Here's what cloud-based CRM offers your business. CRM and the cloud computing revolution have changed everything. Perhaps the most significant recent development in CRM systems has been the move into the cloud from on-premises CRM software. Freed from the need to install software on tens, hundreds, or thousands of desktop computers and mobile devices, organizations worldwide are discovering the benefits of moving data, software, and services into a secure online environment.
7. WORK FROM ANYWHERE.
Cloud-based CRM systems such as Salesforce (Learn more: What is Salesforce?) mean every user has the same information, all the time. Your sales teams out on the road can check data, update it instantly after a meeting, or work from anywhere. The same information is available to anyone who needs it, from the sales team to the customer service representatives.
8. REDUCE COSTS.
CRM can be quick and easy to implement. A cloud-based system doesn't need special installation, and there's no hardware to set up, keeping IT costs low and removing the headache of version control and update schedules.
Generally, cloud-based CRM systems are priced on the number of users who access the system and the kinds of features needed. This can be very cost-effective in terms of capital outlay and is also extremely flexible - enabling you to scale up and add more people as your business grows. Salesforce is flexible in terms of functionality, too - you're not paying for any features that are not useful to you.
To learn more about CRM and Salesforce, please contact us at https://www.beryl8.com/th/contact-us