01 February 2022
'BE8' awarded a 440 million Baht project from Port Authority of Thailand to develop a Port Community System (PCS) to becoming a world class global gateway.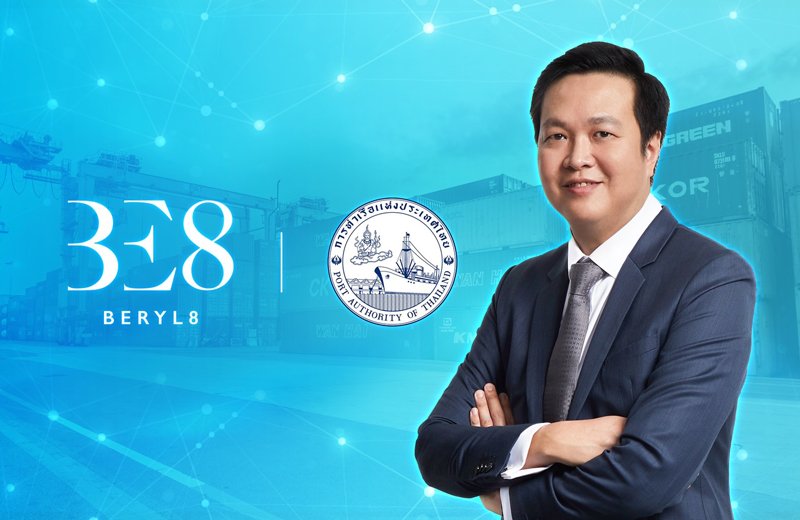 Beryl 8 Plus Public Company Limited or "BE8" was awarded the project to develop Port Community System for the Port Authority of Thailand (PAT) with project value of THB 440 million. The project aims to digitally transform PAT's logistics management to enhance the ability to serve all stakeholders with features, such as Data Analytics and Seamless Connectivity and Automation, with the goal of increasing efficiency of all vessels and cargo at Bangkok Port, Laemchabang Port, and all of its logistics network in Thailand and abroad.
"Beryl 8 Plus is ready to introduce new technology to help increase the efficiency and value-added of the production, logistics, sales, and services sector for all businesses. Likewise, many governmental units also need to speed up digital transformation in order to drive the country's productivity and to remain competitive at the global level. Beryl 8 Plus is pursuing our 2022 roadmap to expand digital transformation services to the government sector to support the company's growth in addition to our current customer base which consist of large enterprise as well as SMEs from the private sector.
Recently, the 2-member consortium between Beryl 8 Plus Public Company Limited and FICT Associate Company Limited is awarded the project to develop the "Port Community System" for the Port Authority of Thailand with a project value of THB 440 million over 3 years. The project includes the development and implementation of a holistic port management to allow for a centralized data management for all stakeholders of the Bangkok Port and Laemchabang port to increase the efficiency of the logistic network and the ability to track logistic status real-time.
In addition, the PCS will also allow for data to be analyzed and utilized for advance planning as well as facilitate data flow between government entities (G2G), government and business entities (B2G), and business entities (B2B). Moreover, it will allow data to be integrated through a National Single Window (NSW) in the e-Logistics Platform that is a global standard and allow all related units with different working system to integrate data for a seamless operation, leading to better cost management, increase efficiency, and lower cost of all stakeholders in all steps of the process of importing and exporting goods.
"BE 8 is proud to be a part in elevating PAT's logistic capability by utilizing our expertise in digital transformation and technology consulting in order to help PAT achieve its vision to become a world class logistic hub as well as to support all stakeholders both in the private and government sector to drive towards sustainable growth in the future with technology."