13 May 2022
'BE8' to acquire X10 to become the leader in Digital Transformation Consulting in ASEAN, capturing synergy in technology and increasing its technical resources to be one of the largest in Thailand, with a goal to grow 5x in 3 years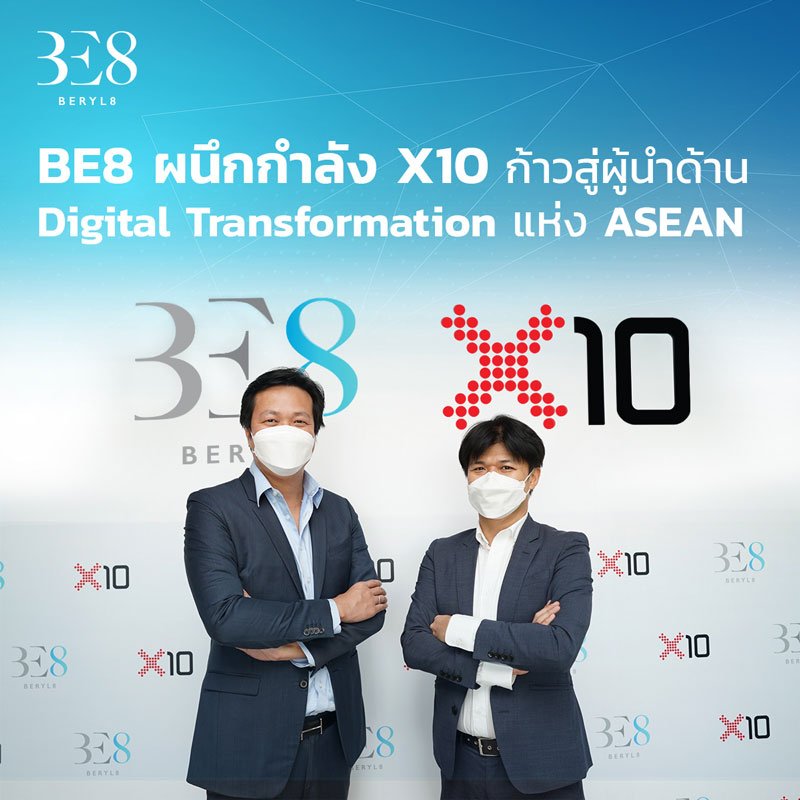 Beryl 8 Plus Public Company Limited or "BE8" has entered into an agreement to acquire Extend IT Resource Co. Ltd. ("X10"), a leading technology consulting firm specializing in Integration Platform, as part of its strategy to become the leader in Digital Transformation Consulting in ASEAN, boasting innovative technology, platforms, and over 600 highly experienced technical resources. The acquisition will strengthen BE8's capabilities and increase opportunities to bid in large mega projects as well as provide more resources to support its future growth. The company boasts impressive Q1'22 performance with Revenues of 123 Million THB (40.9% Growth YOY) and Net Profit of 23.78 Million THB (39.1% Growth YOY).
Apisek Tewinpagti, CEO of Beryl 8 Plus said, "The company has entered into an agreement with X10 to transfer all business of Extend IT Co., Ltd. ("X10") which will strengthen BE8's capabilities in line with its strategy to become the leading Digital Tech Consultant in ASEAN by offering innovative technology, worldclass software, and other services to be an end-to-end Digital Transformation consultant and to address the demands of both private and public sectors appropriately in today's fast-paced digital age. The transaction is expected to be completed in August of this year.
The deal is expected to reach a total of 620.64 Million THB in total value, consisting of 50 Million THB in cash to XR Resource and the remaining will be settled through 14.60 Million newly issued shares with a par value of 0.50 THB at the price of 39.10 THB per share for a total value of 570.64 Million THB. The company will propose for the approval of shareholders at the general shareholder's meeting on July 7, 2022 with the record date on May 27, 2022.
X10 is Thailand's leading technology consulting company with over 12 years of experience, more than 30 enterprise business customers, and an expertise in the development of Technology Integration Platform by Mulesoft which will help elevate BE8's services in connecting applications, operating systems, and other devices together more efficiently. Combining X10 and Beryl 8's expertise, experience, and resources in Digital Transformation will augment Beryl 8's capabilities to offer comprehensive services and enter to bid in new projects to further drive revenue growth.
"The deal marks a significant development in the country's technology industry as it will increase BE8's technical resources to be one of the largest in Thailand. With X10's over 400 technical resources and BE8's 200 highly skilled technical talent, the deal will unlock the resource constraint and allow the company to address future growth as well as allow the company to improve cost management and manage resource utilization more effectively." The deal is part of the BE8's strategy in becoming the leading Digital Transformation Consultant in ASEAN with a target to grow 5 times in 3 years. The company still eyes further investment and M&A opportunities to help enhance the competitive advantage of all businesses to keep up with changes in technology and continuously be ahead of technology disruption. BE8 is confident that the company will show impressive growth of more than 50% this year. As of March 31, 2022, the company has a backlog of 564 Million THB in which 313 Million THB is expected to be recognized this year and is in the process of bidding over 569 Million THB of projects.
For the Quarter 1/2022, the company has a successful quarter with total revenues of 123.01 Million THB which is a 40.9% growth from the same period last year with a revenues of 87.23 Million THB and net profit of 23.78 Million THB which is a 39.1% growth from the same period last year.
Mr. Krisada Ketphupong, Managing Director of Extend IT Resource, said X10 is ready to bring forth our expertise in digital transformation especially in Technology Integration Platform and Open-API by Mulesoft which is a critical foundation in driving Digital Transformation. In addition, the company also has other expertise in different areas of digital technology that is complementary to Digital Transformation. Combining the strength of both companies will help deliver better solutions for customers. X10 has a broad portfolio of customers ranging from state and government enterprise to private enterprises, including Bank of Ayudhya, Viriyah Insurance, Central Group, and the National Cyber Security Agency. This acquisition would undoubtedly help propel BE8 towards leadership in Digital Technology Consultant in ASEAN.